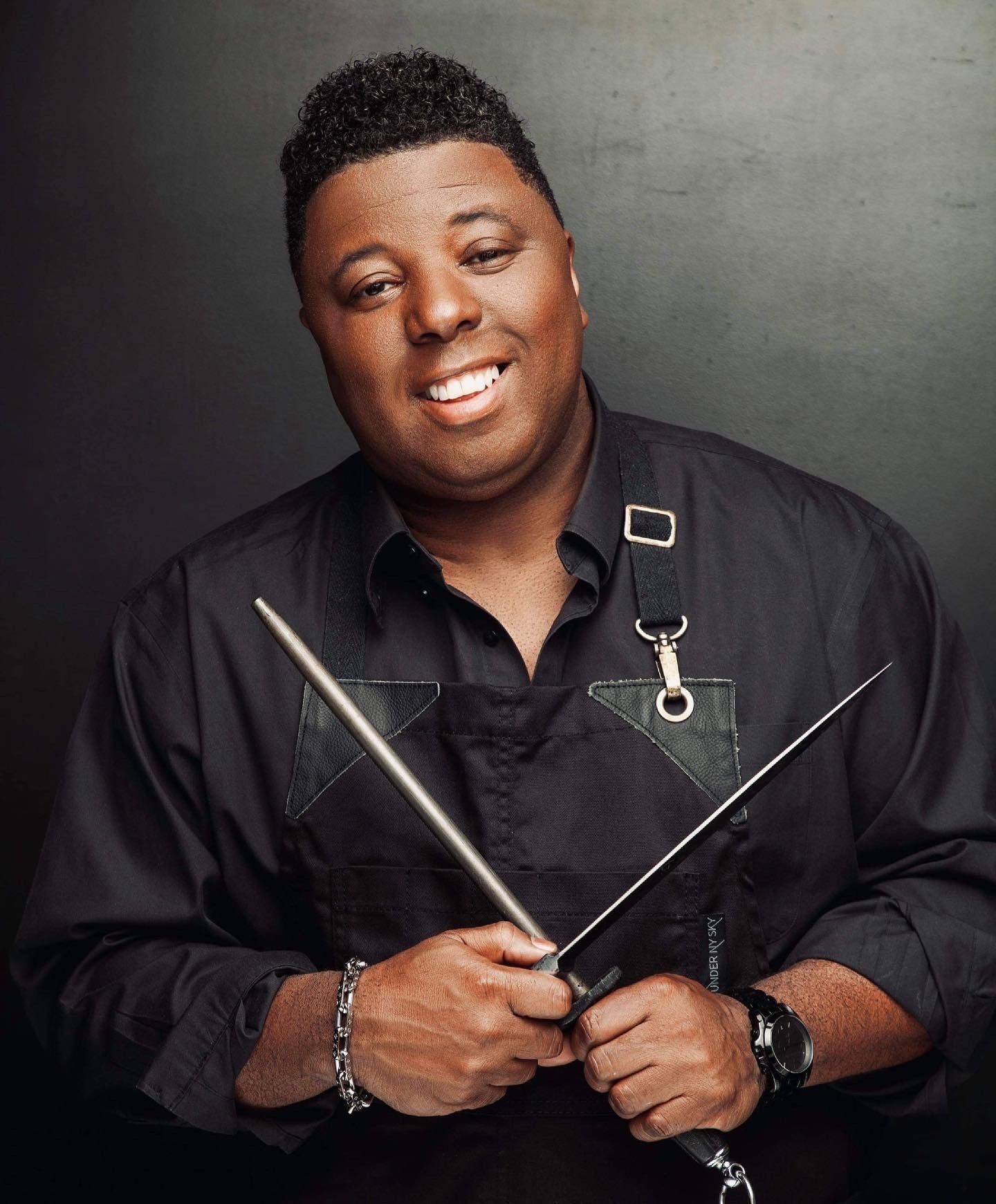 LAKE CITY, S.C. – From Inside the Circle transforms Marshall's Marine boat dealership into a concert venue on Saturday night at a one-of-a-kind experience including live music, songwriters circle, and food from world-renown chefs.
As part of ArtFields 2023, this cultural fusion event starts at 7 p.m. at Marshall's Marine, 1114 E. Myrtle Beach Hwy., Lake City, on Saturday, April 22. Cash bar available throughout the evening, and a small-plates menu is included with admission.
Menu
Chef Carlos: Low Country Pepper Jack Shrimp and Grits with Crab Burre Blanc Sauce
Chef Jacklyn: Braised Short Ribs over Fried Smoked Gouda Grit Cakes
Chef Mark: Seafood Ceviche Veracruz • avocado, olive, caper, crema & crispy tortillas
Chef Jonathan: Chicken Liver Paté with Caramelized Onion on a Sweet Tea Matzo Cracker. Half-Sour Pickle, Zhoug and Horseradish Condiment
Meet the Chefs
Celebrity Executive Chef Carlos Brown owns Shrimp & Grits Café in Charleston, S.C., and founder and CEO of C3 Culinary Group, will be one of the four chefs featured in Saturday's event. New York Weekly calls Brown "a leading influence in the Culinary Arts." He has been featured in the Smithsonian African American Museum for his authentic shrimp and grits dish, earned a Diamond Culinary Medal, American Culinary Federation (ACF) Award, 2020 National Black Chef Awards Culinary Excellence Award, and Kingston Chef Scholastic Award. His culinary specialties have been enjoyed by such personalities as President Barack Obama, Oprah Winfrey, Danny Glover, Tyler Perry, Viola Davis, Ray Lewis, and Whoopi Goldberg among others.
"One of the greatest lessons my mother taught me was the importance of cooking with your soul. As a belief in childhood is still my belief today, 'People know good food because they can taste the love in the food.' As a child, while my brothers and sisters were out playing, I was in the kitchen watching as she cooked for our family. She never measured ingredients or followed recipes, she instinctively knew what ingredients went well with others and how to bring out the best flavors in foods. Yes, watching my mother, I knew early on what I wanted to do in life — become a chef," Brown says.
He received his B.S. in Culinary Arts from Johnson and Wales University and has a complete product line, Chef Carlos Brown Sauces and Vinaigrettes. He serves as a culinary consultant to NFL teams, high-end resorts, and restaurants.
"I grew up on the east side of the projects in an under privileged downtown neighborhood with a mother who could take the most mediocre meal and turn it into the most extravagant spread," Brown says. "With her innate nature of cooking, she followed no recipes and never measured an ounce of ingredients while instinctively knowing what spices brought out the best flavors. This taught me one of the most important lessons, cooking from the soul."
A philanthropic at heart whose work includes teaching youth the importance of culinary arts and sharing his mission to globally bring families back to the table, he founded the non-profit youth organization, C3 Culinary Camp a week-long S.T.E.A.M. program held in the summer months.
Chef Jonathan runs the Jewish Deli every Saturday at the St. John's Farmer's Market. Specializing in Ashkenazi classics and Sephardic flavors, he sources seasonal ingredients from local farmers, fishers, and foragers. He is a former radio broadcaster and record store owner. Jonathan loves a terrible pun and is finishing his cookbook for the Fall of 2023.
Chef Jackie is the Owner/Executive Chef of Savor! The Flavor Experience LLC. She began her career in 2005 as a baker and pastry chef designing hundreds of special occasion cakes near and far earning her a reputation for their beauty as well as their taste. Some of her creations have been featured in magazines and seen on TV. For the past 7 years Jackie has held several positions such as, Pastry Chef, Special Event Planner, Assistant Director, as well Director of Food and Beverage at a local Retirement Community. Currently, she is the Culinary Services Director of Midlands Behavioral Health Hospital. She continues to refine her craft at Savor! The Flavor Experience, where she takes great pride in delivering food that taste as good as it looks! Her motto, "It's more than just a meal, it's an experience!"
Mark McCrowe is a chef and cookbook author from St. John's, NL. Growing up around simple Newfoundland dishes using fresh seafood and wild game inspired an appreciation in Mark for local food at a young age. After studying at The Pacific Institute of Culinary arts in Vancouver, British Columbia, and working in some of the city's finest kitchen's Mark returned home to further his own individual style as a Chef. He had went on to run two highly successful restaurants Aqua and The Club in St. John's that have been featured in such shows as Food Network Canada's You Gotta Eat Here and Cooking Channel's Chuck Eats the street. Apart from running restaurants, Mark has competed against Canada's best chefs at the Canadian Culinary Championships and was crowned Newfoundland's first Chopped Champion in the first season of the Food Networks hit show. His award-winning cookbook Island Kitchen features his life as a chef in Atlantic Canada and highlights his passion for indigenous ingredients. He has consulted on several local restaurants and pubs bringing forth new and exciting food menus and operations programs. He cooks the food he loves for the people that means so much to him and looks forward to furthering the future of Newfoundland cuisine for many years to come.
Meet the Musicians
Headlining the event will be Haley Campbell. New York-born and South Carolina-raised, Campbell's music is a hybrid of city-slicker sass and small-town sensibilities, mixing rock-style vocals with undeniably country storytelling. Since she started releasing music in 2015, Campbell has opened for country stars including Billy Currington, Luke Combs, Brothers Osborne, Dan + Shay, David Nail, Lauren Alaina, Carly Pearce, Thompson Square and more. Along with her own tour dates, 2023 will see her appearing at London's esteemed C2C Festival as well as Darius Rucker's Riverfront Revival in her hometown of Charleston, SC.
"My music is a reflection of my life experience, and it comes from the heart. With every song, the goal is to take the listener on a journey, paint them a picture and involve them in the story. I think that is truly what makes music special – when it can transport you to a different state of mind," Campbell says.
In the spirit of the Mississippi Delta Bluesmen, THE Dubber confronts the world with only his words and a guitar. The self- taught singer/songwriter continues to reinvent his blues by infusing any musical genre for over 30 years. Everything from Rock, Folk to Jazz, flavored by the international sounds of Reggae, Maqam (Arabic Music), and Afro Beat is just the beginning of a complex stew that helps him create such a fresh and distinct sound. Since 2005, the Washington, D.C., -born / South Carolina-based artist has been trailblazing across the country and abroad with an honest and intimate stage show. His sophisticated one-man band guitar style and universal message of UNITY, keeps THE Dubber booked year round. Always a crowd favorite, he has played prestigious events and venues such as South by Southwest Music Conference, South Carolina State Museum and ArtFields Festival.
Based in St. John's, NL, LadyLike pride themselves on their technical abilities and musical versatility, and are breaking boundaries with their new sound. This exciting new Country Music Band is composed of a talented team of creative musicians and killer vocalists. Founding members Karla Pilgrim and Terri Lynn Eddy, formerly of The Secrets, joined forces with Carole Besvater in January of 2021. Together they have a storied history of live performances, musical arrangements, and professional recording sessions. Pilgrim's heartfelt delivery is as authentic as it gets. Three-time MusicNL award winner and two-time ECMA nominee, Pilgrim has spent the last 15 years winning over audiences from coast to coast. From performing for troops in The Middle East to opening multiple sold out shows for country music superstar Tim McGraw at the Mile One Stadium in St. Johns, NL, Pilgrim's experience as a performer knows no boundaries. "Powerful, emotional, and incredibly gifted" are words that have been used to describe the vocal capabilities of Eddy. Having performed together for over 20 years, Pilgrim and Eddy have travelled thousands of miles; from cross country tours, showcasing in the U.S. to playing with The Newfoundland Symphony Orchestra. Adding to their new sound is NSO's Carole Bestvater. Carole is a sought-after music educator, freestyle fiddler, session player and founder of Strong Harbour Strings Program. They made their debut in May 2021 with a Provincial Tour of Newfoundland and Labrador.
A diverse songwriter with a rich appreciation for music, Will Ness' ranges from reggae to acoustic inspired compositions. Born in South Carolina, country music was everywhere. Uninspired by the norm, Ness turned to the great artists like The Beatles, Bob Marley and The Wailers, James Taylor, and Marvin Gaye. An experienced cover artist, Ness applies what he's learned from great songs to his own. Ness has spent his twenties playing cover and original shows along the South Carolina coast and is working to perform his original material and cover favorites at venues across the country.
Hailing from Canada's East Coast, Newfoundland's Chris Ryan has been entertaining crowds for over a decade. With his gritty voice, stellar guitar playing and high energy stage presence, Chris has become a mainstay in the Atlantic Canadian entertainment scene. Chris was an East semi-finalist in the 2018 SiriusXM - CCMA "Top of the Country" Project, participated in the 2019 edition of the Canadian Song Conference's "Canadian Songwriter Challenge" and toured with Sierra Noble opening for Johnny Reid across Canada in 2019.
Links to the Music
http://www.haleymaecampbell.com/about
https://www.thebandladylike.com/
https://www.thedubber.com/about.html
https://www.chrisryanmusic.ca/
http://willnessmusic.com/
Tickets
All proceeds will support the Lake City Boys & Girls Club & Youth Technology Center. OUR GOAL IS TO FUND SUMMER PROGRAMMING FOR 35 YOUTH! Tickets in advance are $35 individually and $50 for a pair. At the door, tickets will be $45. Purchase online here.