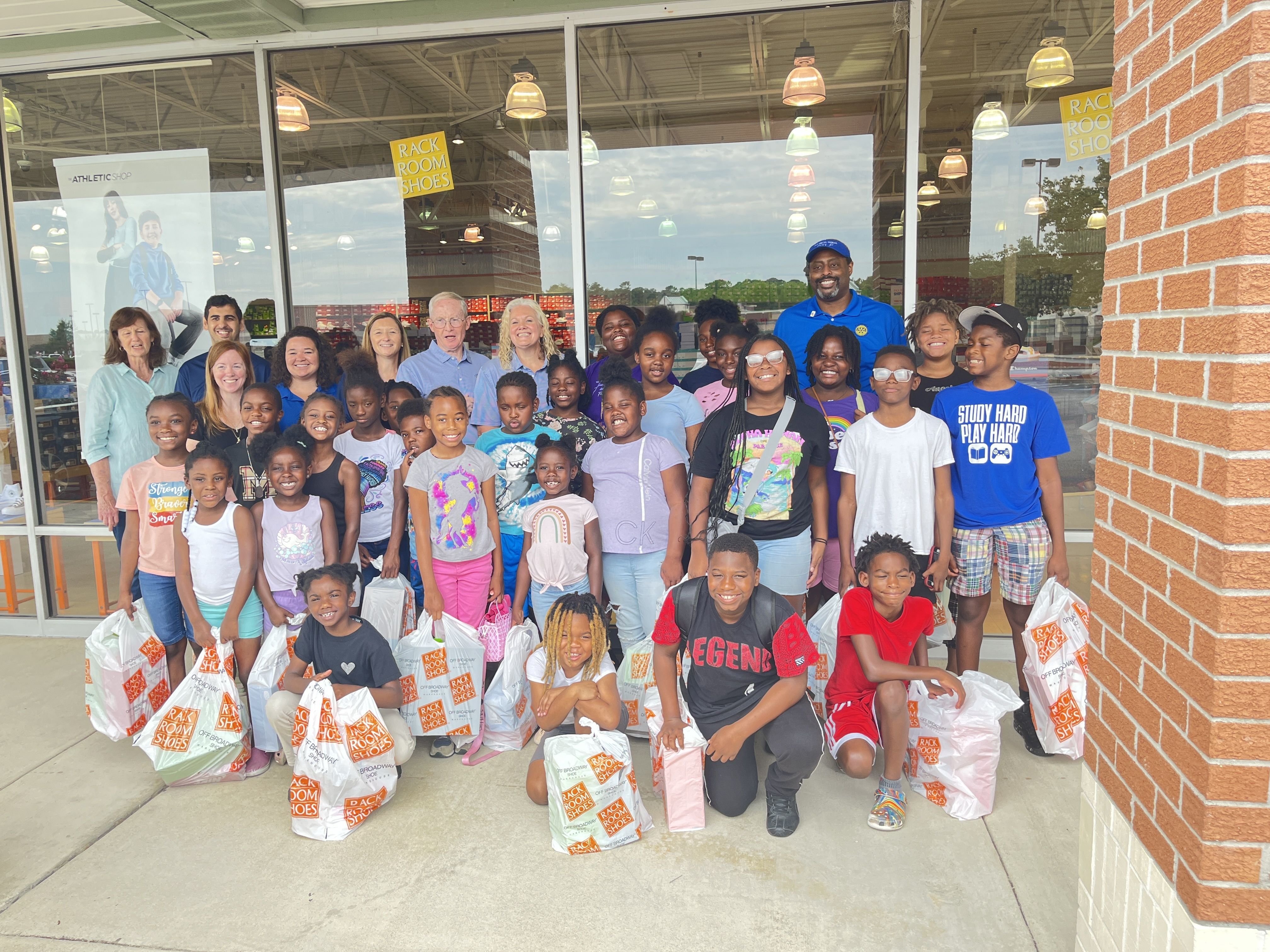 The Florence Breakfast Rotary Club brought smiles to 100 kids faces on Saturday as members helped them pick out pairs of shoes for the back-to-school season.
Sixty youth from the Florence Club and 40 from the Hartsville Club spent Friday night playing games and having fun at the site on Roughfork Street. The celebration marked the end of the summer session for both clubs and the start of the new school year.
"To me it's more than just a pair of shoes. To me, it's giving the kids an opportunity for a sleepover," said Florence Club Director Justin Newton. "It's more of an impact when they have that sleepover, get to hang out with their peers, stay up all night, and the mentoring that happens among the staff and the kids."
Saturday morning, after enjoying some Chick-fil-A biscuits, the kids loaded up the bus to ride to Rack Room Shoes to meet the volunteers from the Rotary Club. The kids got to choose two pairs of shoes, one pair of tennis shoes and one pair of Crocs.
This is the 6th year the Florence Breakfast Rotary Club has partnered with the Boys & Girls Clubs of the Pee Dee Area. The Rotarians raise money throughout the year at social events to fund the program, but Happy Feet wasn't born in Florence. Across the country, Rotary clubs participate in similar programs to provide "service above self."
The project helps start the new year off on the right foot for many children and has doubled in impact over last year, reaching an additional 50 kids.
"We are not turning any kids away," said Paige Ard, past president of the Florence Breakfast Rotary Club. "Rotary's motto is service above self, and that's what we try to do with this."
For more information about the Florence Breakfast Rotary Club, visit www.facebook.com/FlorenceBreakfastRotary or a weekly meeting at 7:30 a.m. Wednesdays at Florence Country Club.
For more information about Boys & Girls Clubs of the Pee Dee Area, visit www.BGCPDA.org or find us on Facebook, Twitter, or Instagram at "/bgcpeedee."
Check out a video of the event here: https://youtu.be/OE5KOF52TIk