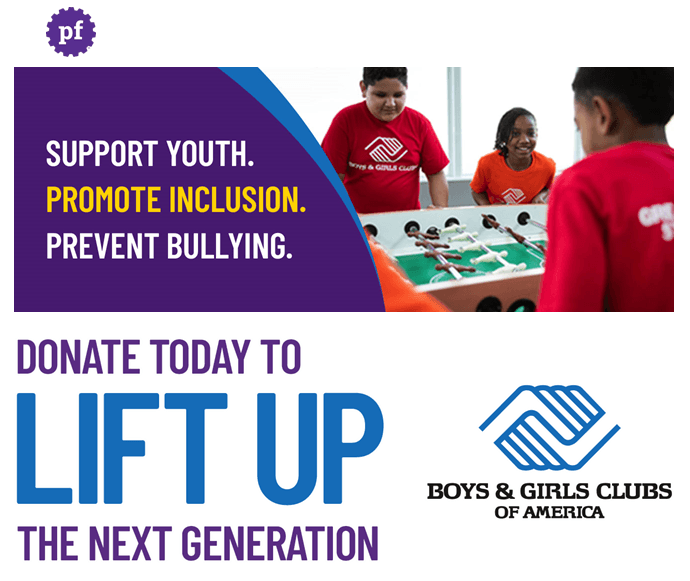 The Judgement Free Generation® is Planet Fitness's signature initiative aimed at promoting kindness and preventing bullying. Rooted in the company's goal of creating inclusive cultures, the program strives to combat the judgement and bullying faced by today's youth by championing trauma-informed programming, which acknowledges and aims to understand the impacts of traumatic experiences and respond in ways that encourage positive growth. Together with Boys & Girls Clubs of America, Planet Fitness aims to empower a generation to grow up contributing to a more judgement free planet – a place where everyone feels accepted and like they belong.

As part of the program, Planet Fitness has:
Contributed more than $8.4M to Boys & Girls Clubs nationwide
Funded a first-of-its-kind social-emotional skills training for Boys & Girls Club professionals and youth to foster empathy and establish positive interactions
Awarded 230 scholarships to youth who promote acceptance and inclusion in their communities
Built more than 35 Mini Judgement Free Zone fitness centers in select Boys & Girls Clubs, providing youth with inclusive spaces where they can work out
Funded Community Kindness Grants to provide local Clubs with funding for community-driven projects
Volunteered at Boys & Girls Clubs throughout the U.S.
About Planet Fitness
Founded in 1992 in Dover, N.H., Planet Fitness is one of the largest and fastest-growing franchisors and operators of fitness centers in the United States by number of members and locations. The Company's mission is to enhance people's lives by providing a high-quality fitness experience in a welcoming, non-intimidating environment, which they call the Judgement Free Zone®. More than 95% of Planet Fitness stores are owned and operated by independent business men and women.