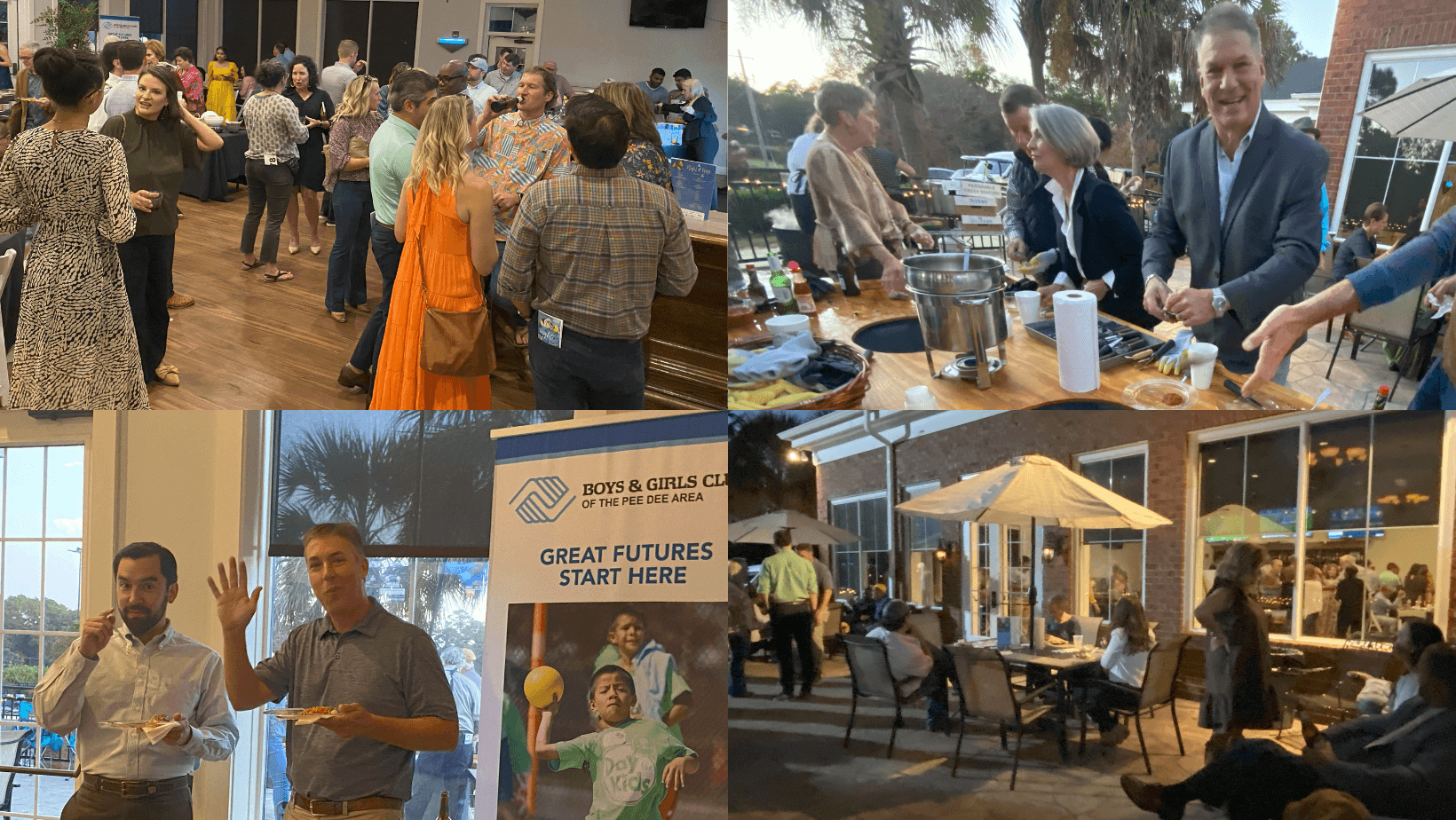 The Hartsville Boys & Girls Club would like to thank everyone who contributed and participated in its Annual Night of Hope Oyster Roast and Live Auction. The lively evening brought nearly 200 people together to help Boys & Girls Club continue to build great futures in Hartsville.
Attendees enjoyed oysters on the patio with Jim Money and Hunter Fraser performing live and tables of other delicious bites inside the Hartsville Country Club. Dan E. Lockemy riled the crowd for 16 auction items with fierce bidding at times, all for a good cause. Attendees got a sneak peek into the Club renovations set to begin in January too!
Presenting Sponsor: Sonoco
Pearl Level Sponsors: Modern Medical Spa and Black Creek Medical Consultants
Star Fish Level Sponsor: Carolina Pines Regional Medical Center
Lobster Level Sponsors: Dr. Abraham Areephanthu, Carolina Bank, North Industrial Machine, Bill & Peggy Query, Raceway Ford Chevrolet, Wilson Senior Care – Morrell Nursing Center, and Neal & Nancy Zimmerman
Mussel Level Sponsors: Darlington Raceway, Doc's Humidor Cigar Wine & Jazz Lounge, Flowers Dental Care, and VIP Magazine
Shrimp Level Sponsors: Braddock Law Firm, Butler Heritage Foundation, CareSouth Carolina, Jerry Cheatham, John & Judith Davis, Hartsville Animal Hospital, Lucas White & Mitchell, Mutual Savings Bank, Pee Dee Realtors Association, Saleeby & Cox PA, Smith Watts & Associates, and SPC Credit Union
Booster Level Sponsors: Arborworks Tree Company, The Blind Pig, Scott Cameron, Duke Energy, Gainey's Heating & Cooling, Dr. H. Lee Gardner, Ben Gore, Home Team Axe Throwing, Minnie's Giftique, Stifel Nicolaus, Tingen & Associates, John Walker, and Wilson Senior Care – Oakhaven Nursing Center
Beverage Sponsor: Legacy Group – AllState
Live Auction Sponsors: Anonymous Donors, Black Creek Medical Consultants, Cheraw State Park Golf Course, Doc's Humidor Cigar Wine & Jazz Lounge, Darlington Country Club, Darlington Raceway, Flowers Dental Care, Hartsville Country Club, Henderson Ace Hardware, Modern Medical Spa, Chuck Redfearn, Oliver Segars, and West Propane
Special thanks to Board Chair Kathy Brown and Board members Ben Chastain, Tarshia Edwards, Joel McCall, Keith McDonald, Bill Query, and Derek Trader as well as Club Director Dianne Montgomery and her staff.
Follow Boys & Girls Clubs of the Pee Dee Area on social media, Facebook, Instagram, and Twitter, at #bgcpeedee. If you would like to contribute to the Hartsville Boys & Girls Club, or any of the Pee Dee Area's other sites in Florence, Hemingway, Lake City, Pamplico, and Timmonsville, visit www.BGCPDA.org.