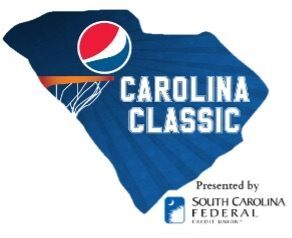 FLORENCE, S.C. – The 36th Annual Pepsi Carolina Classic presented by South Carolina Federal Credit Union takes place Tuesday, Dec. 27, through Thursday, Dec. 29, at Wilson High School, 1411 E. Old Marion Highway, Florence, to benefit Boys & Girls Clubs of the Pee Dee.
Recognized among high school and college coaches as one of the premier tournaments in the region, the Carolina Classic features public and private schools from South Carolina and along the East Coast.
In 2021, the Classic included a girls' division for the first time, something that's being reprised this year with Carmel Christian of Charlotte, N.C., Hartsville, Trinity Collegiate, and returning champion Lake View competing for the top trophy.
In the boys' division, reigning champion West Florence will compete against South Florence, Wilson, Lakewood of Sumter, Marion, Dunbar of Washington, D.C., Quality Education Academy from North Carolina, and Eagle Academy out of New York. The West Florence Knights have held up the trophy five times since 2006.
Since 1986, the Carolina Classic has raised more than $1.2 million to support the children who attend our local Boys & Girls Clubs.
Tickets must be purchased online at https://bit.ly/3YBUIxf or bgcpda.org. No cash will be accepted at the gate. No refunds or exchanges on ticket sales. Clear bag REQUIRED to enter the venue.
Schedule
Tuesday, Dec. 27
Game 1 Boys: 1 p.m. Dunbar v. Eagle Academy
Game 2 Boys: 2:30 p.m. South Florence v. Quality Education
Game 1 Girls: 4 p.m. Hartsville v. Trinity Collegiate
Game 3 Boys: 5:30 p.m. Wilson v. Lakewood
Game 4 Boys: 7 p.m. West Florence v. Marion
Wednesday, Dec. 28
Game 5 Boys: 1 p.m. Loser G1 v. Loser G3
Game 6 Boys: 2:30 p.m. Loser G2 v. Loser G4
Game 2 Girls: 4 p.m. Carmel Christian v. Lake View
Game 7 Boys: 5:30 p.m. Winner G1 v. Winner G3
Game 8 Boys: 7 p.m. Winner G2 v. Winner G4
Thursday, Dec. 29
Game 9 Boys: 12 p.m. Loser G5 v. Loser G6
Game 3 Girls: 1:30 p.m. Loser G1 v. Loser G2
Game 10 Boys: 3 p.m. Loser G7 v. Loser G8 = Third Place Winner
Game 11 Boys: 4:30 p.m. Winner G5 v. Winner G6 = Consolation Bracket Winner
Game 4 Girls: 6 p.m. Winner G1 v. Winner G2 = Girls Division Champions
Game 12 Boys: 7:30 p.m. Winner G7 v. Winner G8 = Boys Division Champions
#BGCPDA #donate #youthempowerment #community #instagood #giveback #bgcpda #bethechange #childrenarethefuture #boysandgirlsclubofamerica #PepsiCarolinaClassic #basketball #tournament #CarolinaClassic #winners #SouthCarolinaFederalCreditUnion