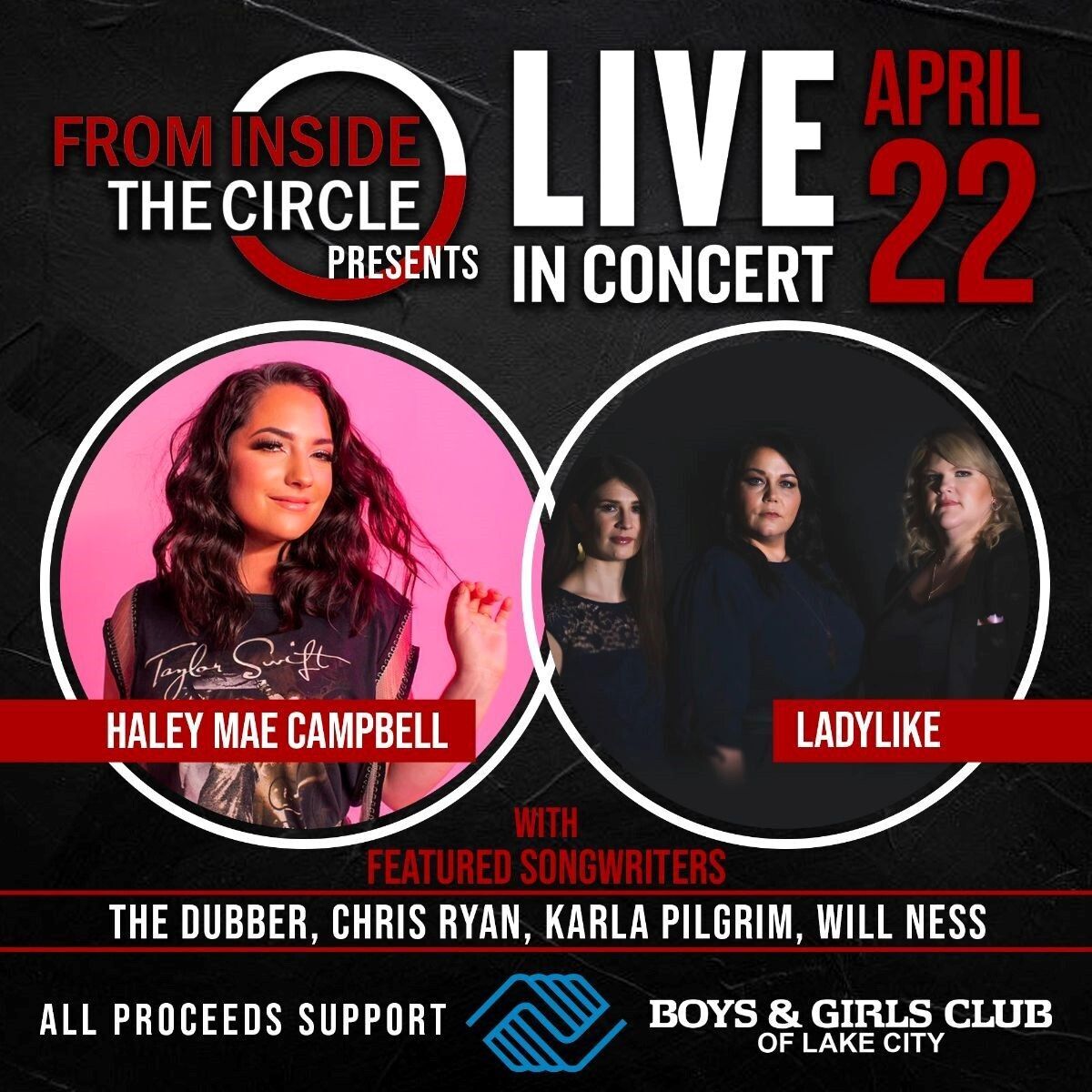 LAKE CITY, S.C. - Experience a cultural fusion as From Inside the Circle presents Live in Concert main performances by Haley Campbell and Ladylike with featured songwriters, The Dubber, Chris Ryan, Karla Pilgrim, and Will Ness. The Songwriters Circle will be hosted by Amy House as these musicians share their talents and explain the stories behind the songs.
A small plates reception featuring chefs from Canada and the United States will follow the performances. Doors open at 6 p.m. with the show starting at 7 o'clock Saturday, April 22, 2023, at Marshall's Marine, 114 E. Myrtle Beach Highway, Lake City. Cash bar.
The entire production, from transformation of the venue into a concert space to the music, will be filmed as part of the TV series.
All proceeds will support the Lake City Boys & Girls Club & Youth Technology Center. OUR GOAL IS TO FUND SUMMER PROGRAMMING FOR 35 YOUTH!
Tickets in advance are $35 individually and $50 for a pair. At the door, tickets will be $45. Purchase online at https://bit.ly/3KKtG2e.
About the artists
Haley Mae Campbell: New York-born and South Carolina-raised, Campbell's music is a hybrid of city-slicker sass and small-town sensibilities, mixing rock-style vocals with undeniably country storytelling. She says, "My music is a reflection of my life experience, and it comes from the heart. With every song, the goal is to take the listener on a journey, paint them a picture and involve them in the story. I think that is truly what makes music special – when it can transport you to a different state of mind."
LadyLike: Based in St. John's, NL, LadyLike, an exciting new Country Music Band, is made up of a talented team of creative musicians and killer vocalists that pride themselves on their technical abilities and musical versatility, and are breaking boundaries with their new sound. Karla Pilgrim's heartfelt delivery is as authentic as it gets. "Powerful, emotional, and incredibly gifted" are words that have been used to describe the vocal capabilities of Terri Lynn Eddy. Having performed together for over 20 years, Pilgrim and Eddy have travelled thousands of miles; from cross country tours, showcasing in the U.S. to playing with The Newfoundland Symphony Orchestra. Adding to their new sound is NSO's Carole Bestvater. Carole is a sought-after music educator, freestyle fiddler, session player and founder of Strong Harbour Strings Program. Based in St. John's, NL, LadyLike pride themselves on their technical abilities and musical versatility, and are breaking boundaries with their new sound. They made their debut in May 2021 with a Provincial Tour of Newfoundland and Labrador.
The Dubber: The self- taught singer/songwriter continues to reinvent his blues by infusing any musical genre for over 30 years. Everything from Rock, Folk to Jazz, flavored by the international sounds of Reggae, Maqam (Arabic Music) and Afro Beat is just the beginning of a complex stew that helps him create such a fresh and distinct sound. Since 2005, the Washington DC born / South Carolina based artist has been trailblazing across the country and abroad with an honest and intimate stage show. His sophisticated one-man band guitar style and universal message of UNITY, keeps THE Dubber booked year-round. Always a crowd favorite, he has played prestigious events and venues such as South by Southwest Music Conference, South Carolina State Museum and ArtFields Festival.
Chris Ryan: Hailing from Canada's East Coast, Newfoundland's Chris Ryan has been entertaining crowds for over a decade. With his gritty voice, stellar guitar playing and high energy stage presence, Chris has become a mainstay in the Atlantic Canadian entertainment scene. Chris was an East semi-finalist in the 2018 SiriusXM - CCMA "Top of the Country" Project, participated in the 2019 edition of the Canadian Song Conference's "Canadian Songwriter Challenge" and toured with Sierra Noble opening for Johnny Reid across Canada in 2019.
Karla Pilgrim: Three-time MusicNL award winner and two-time ECMA nominee, Karla Pilgrim has spent the last 15 years winning over audiences from coast to coast. From performing for troops in The Middle East to opening multiple sold out shows for country music superstar Tim McGraw at the Mile One Stadium in St. Johns, NL, Pilgrim's experience as a performer knows no boundaries.
Will Ness: A diverse songwriter with a rich appreciation for music, Will Ness's ranges from reggae to acoustic inspired compositions. Born in South Carolina, country music was everywhere. Uninspired by the norm, Ness turned to the great artists like The Beatles, Bob Marley and The Wailers, James Taylor, and Marvin Gaye. An experienced cover artist, Ness applies what he's learned from great songs to his own. Ness has spent his twenties playing cover and original shows along the SC coast and is working to perform his original material and cover favorites at venues across the country.