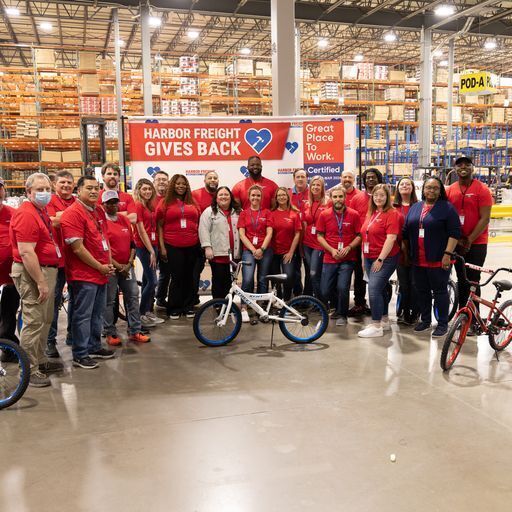 Harbor Freight Tools Dillon Distribution Center associates built 26 bicycles in a little over two hours for youth at the Pamplico Boys & Girls Club last week as part of its Harbor Freight Tools Gives Back Program. Excited students and parents lined the sidewalk as staff delivered shiny red, white, and blue bicycles and helmets to the children Friday.
"We are so appreciative of Harbor Freight and its associates for choosing the Boys & Girls Club to receive this donation," says Pamplico Club Director Candis Bennett. "The kids will truly enjoy the bikes and are grateful for the generosity."
The Pamplico Club, one of six sites in the Pee Dee Area, operates at Hannah-Pamplico Elementary Middle School, 2121 S. Pamplico Highway.
At Harbor Freight, one of the company's core values is giving back to the communities where they live, work, and serve, and this event reflects that commitment to the community.
"Opportunity is central to Harbor Freight, and opportunity is central to the Boys & Girls Clubs where we focus on giving kids an opportunity for a better future," says Lisa Bailey, Director of Philanthropy for the Boys & Girls Clubs of the Pee Dee Area.
Through a variety of programs and services, the Club promotes the social, educational, health, leadership, and character development of boys and girls during critical periods of their growth by instilling a sense of competence, usefulness, belonging and influence.
"Increasingly children are at home with no adult care or supervision and left to find their own recreation and companionship in the streets, which doesn't always lead to good things," Bailey says. "Kids need somewhere to go, something to do, and someone who cares. That's what we provide at the Boys & Girls Clubs."
Boys & Girls Clubs of the Pee Dee Area serve 3,500 youth ages 6-18 each year across six clubs in Florence, Hartsville, Hemingway, Lake City, Pamplico, and Timmonsville in the after-school hours during the year.
Summer program registration is open and includes a full-day option.
"Our Clubs can give parents the opportunity to work and worry less about their kids when they aren't in school."
For more information, visit www.BGCPDA.org, call the Pamplico Club at 843-713-1319, or call the administrative office at 843-662-1142.