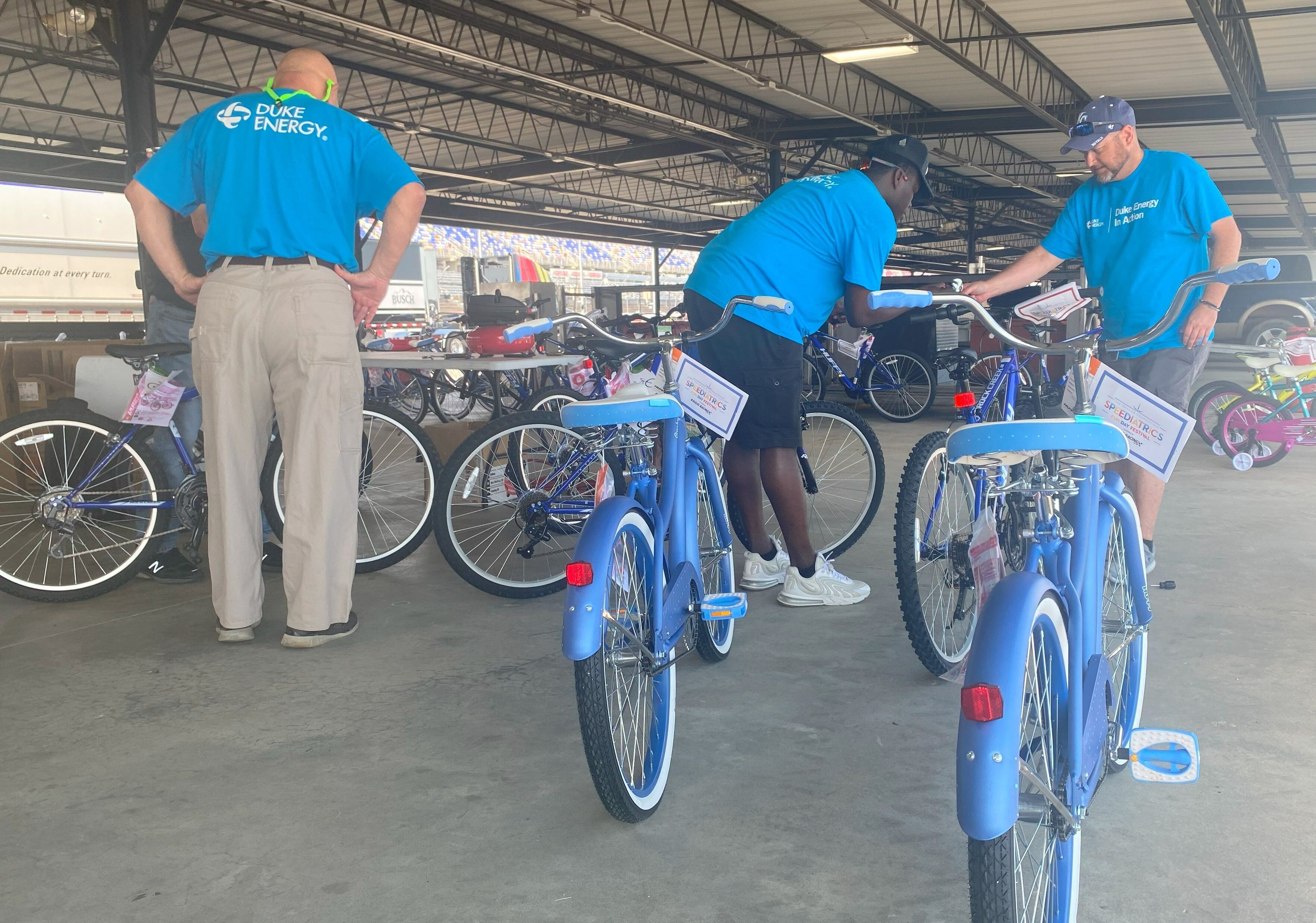 Photo Gallery: https://www.facebook.com/media/set/?set=a.1657030821429135&type=3
Wheels spun around in the Cale Yarborough Infield Garage Thursday morning, but it wasn't the usual type of tire. Forks caught the hubs of these rubber tubes, rims, and spokes, and sparkling tassels hung from several handles.
Volunteers assembled 100 bicycles donated by The NASCAR Foundation to the Boys & Girls Clubs of the Pee Dee as part of The NASCAR Foundation's Speediatrics Fun Day Festival. Volunteers included Assurant Inc., Duke Energy In Action Team, and Stepp's Race Recovery, an official partner of NASCAR, as well as Boys & Girls Club staff and board members.
One couple staying in the infield even joined after spotting the volunteer opportunity online.
The Speediatrics event brings the sport of NASCAR to life for children ages 7-12 through a specialized curriculum and a NASCAR-themed at-track festival held during NASCAR race weekends in select markets each year. It encourages them to adopt the same healthy habits employed by NASCAR drivers and pit crew members to see success on the racetrack. The program is a part of the Foundation's Speediatrics Children's Fund, which supports needs expressed by hospitals, specialty clinics, camps and other organizations providing children's medical and healthcare services.
Dead On Tools served as the presenting sponsor of the first-ever Speediatrics Fun Day Festival at Darlington Raceway on Friday, May 6, prior to the NASCAR Camping World Truck Series race, the Dead On Tools 200.
"Dead On Tools' commitment to making an impact in local communities has made them a great partner of The Foundation," said Nichole Krieger, The NASCAR Foundation's executive director. "The Speediatrics Fun Day Festivals have expanded to nine markets this year, including Darlington, and we couldn't do that without the support of partners like Dead On Tools."
This is the second time Dead On Tools and The NASCAR Foundation have partnered together in the Darlington community. In 2021, the two organizations worked together to build a backyard playset for Eevie, a 4-year-old battling pediatric cancer.
"This is why we do it. For these moments right here", said Brian Ranallo, Marketing Manager, Dead On Tools. "To be able to dive deep into the communities that we are involved in with NASCAR is what keeps us coming back. We are proud to be a part of such an amazing initiative with The NASCAR Foundation and to take the weekend further than racing."
Earlier this year, Kaulig Racing partnered with The NASCAR Foundation, helping to expand the Speediatrics Fun Day Festival to nine race markets. With the help of Dead On Tools, the festival made its debut in Darlington as the fourth event of the year, following events at Auto Club Speedway, Phoenix Raceway and Martinsville Speedway. The program will also travel to World Wide Technology Raceway, Pocono Raceway, Michigan International Speedway, Darlington Raceway and Homestead-Miami Speedway later in the year.
Since 2017, The NASCAR Foundation has encouraged more than 3,700 children to live a healthy lifestyle through the Speediatrics Fun Day Festival program. In addition, the Foundation also provides a charitable donation to the community partner in each market to help support ongoing healthy living programs long after the festival is over.
2023 NASCAR Season
The Tradition Continues at Darlington Raceway with the Labor Day Race Weekend on Sept. 3-4, featuring the Sport Clips Haircuts VFW Help A Hero 200 Xfinity Series race at 3 p.m. on Saturday, Sept. 3, and start of the Cup Series Playoffs in the 73rd running of the crown jewel Cook Out Southern 500® over Labor Day weekend at 6 p.m. on Sunday, Sept. 4. NASCAR tickets are available for purchase via phone at 866-459-7223 or online at darlingtonraceway.com. Stay connected to Darlington Raceway on Facebook, Instagram, Twitter and the all-new NASCAR Tracks App.
About Darlington Raceway
Darlington Raceway, nicknamed The Lady in Black and the track Too Tough To Tame, is home to the award-winning Official Throwback Weekend of NASCAR and annually hosts two NASCAR Cup Series race weekends, along with the NASCAR Xfinity Series and/or NASCAR Camping World Truck Series. Opening in 1950, Darlington Raceway is "A NASCAR Tradition" and NASCAR's original superspeedway with its famed 1.366-mile egg-shaped oval, challenging the sports best in one of the most iconic NASCAR races, the Southern 500®. For more information about Darlington Raceway, visit darlingtonraceway.com.
About Dead On Tools
Dead On Tools: A collision of serious tool using professionals and a lifestyle lived out loud. Dead On Tools sets the highest standard for precision tools and work gear products in the industry today, representing innovation and quality that was born from actual users in the trade. Dead On Tools is headquartered in the Midwest and distributes professional tools and work gear products throughout North America. For more information, visit deadontools.com.
About The NASCAR Foundation
The NASCAR Foundation is a leading charity that works to improve the lives of children who need it most in NASCAR racing communities through the Speediatrics Children's Fund and the Betty Jane France Humanitarian Award. Since 2006, The NASCAR Foundation has contributed more than $41 Million to impact the lives of more than 1.5 million children across the country.
About NASCAR
The National Association for Stock Car Auto Racing (NASCAR) is the sanctioning body for the No. 1 form of motorsports in the United States and owner of 16 of the nation's major motorsports entertainment facilities. NASCAR consists of three national series (NASCAR Cup Series™, NASCAR Xfinity Series™, and NASCAR Camping World Truck Series™), four regional series (ARCA Menards Series, ARCA Menards Series East & West and the NASCAR Whelen Modified Tour), one local grassroots series (NASCAR Advance Auto Parts Weekly Series) and three international series (NASCAR Pinty's Series, NASCAR Peak Mexico Series, NASCAR Whelen Euro Series). The International Motor Sports Association™ (IMSA®) governs the IMSA WeatherTech SportsCar Championship™, the premier U.S. sports car series. NASCAR also owns Motor Racing Network, Racing Electronics, and ONE DAYTONA. Based in Daytona Beach, Florida, with offices in eight cities across North America, NASCAR sanctions more than 1,200 races in more than 30 U.S. states, Canada, Mexico and Europe. For more information visit www.NASCAR.com and www.IMSA.com, and follow NASCAR on Facebook, Twitter, Instagram, and Snapchat ('NASCAR').